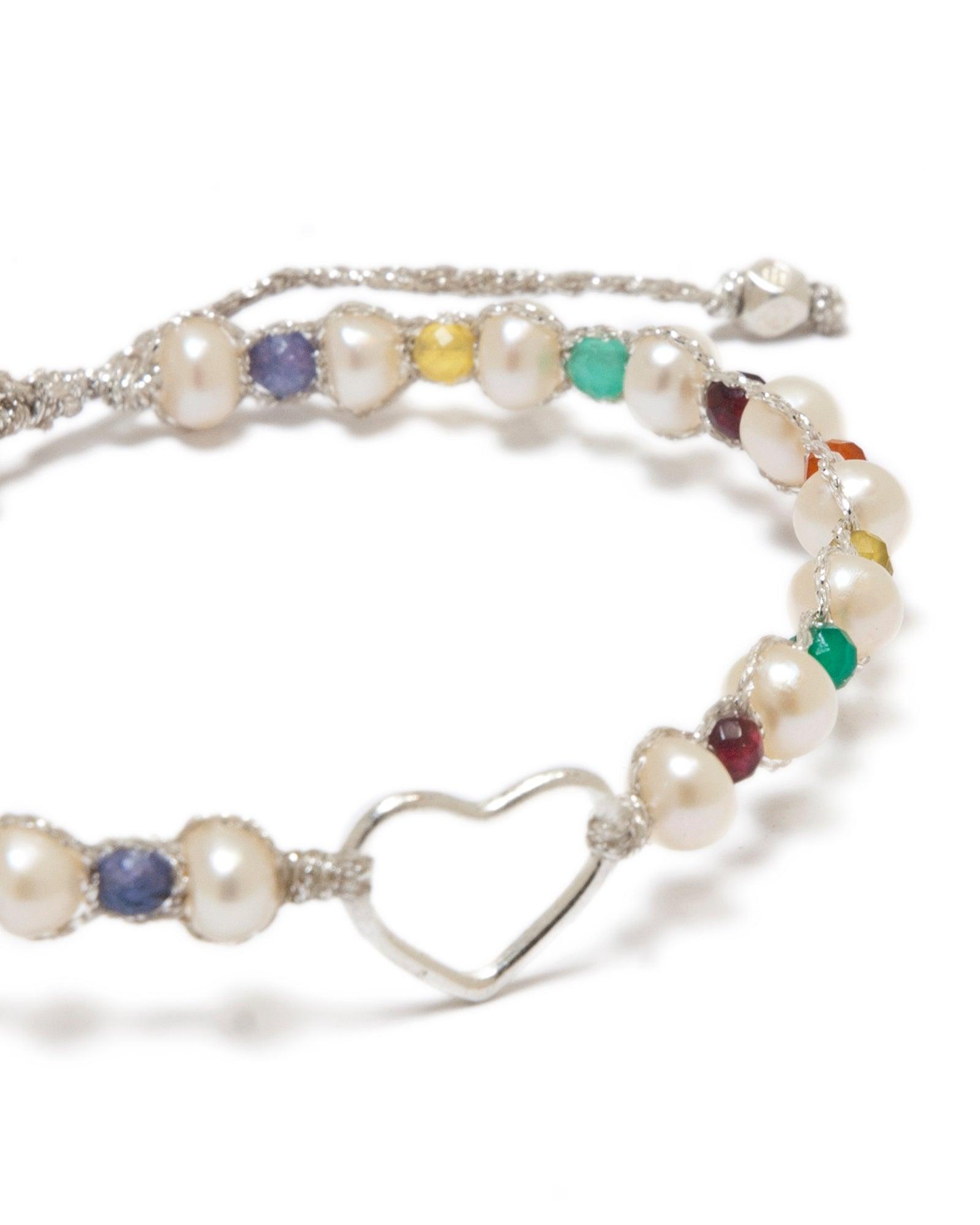 Fresh Water Pearl & Gemstone Heart Bracelet
Silver
*BENEFITS
Protection - Calming - Intuition
A protection stone, Mother of Pearl brings the gentle healing power of the sea. It is a stress relieving stone; relaxing, soothing and calming to the emotions. Mother of Pearl stimulates our intuition, imagination, sensitivity and adaptability. It helps our emotions become more harmonious and balanced.
Gemstones consist of Blue Aventurine, Ruby, Carnelian, Green Onyx, Yellow Chalcyde & Chalcedony.
*Disclaimer: This is not medical advice 
ONE SIZE
 fits the most 15.5-18cm (6.1 - 7 inch) wrist size. The bracelet can be easily adjusted for your wrist.
CARE INSTRUCTIONS
Safe to use in your daily activities, no need to remove for Water or Sports activities
DETAILS 
4mm Pearl & 3mm Gemstone
Silver plated brass
High quality metallic yarn enriched with pure silver made in Kyoto, Japan
*** 3-5 days shipping. Free shipping on orders over IDR 500.000.
Items may be exchanged within 14 days.
Whatsapp (+62 813-2277-7814) our customer service if you have any question

About The Stone
Silver
Protection - Calming - Intuition

A protection stone, Mother of Pearl brings the gentle healing power of the sea. It is a stress relieving stone; relaxing, soothing and calming to the emotions. Mother of Pearl stimulates our intuition, imagination, sensitivity and adaptability. It helps our emotions become more harmonious and balanced.

Gemstones consist of Blue Aventurine, Ruby, Carnelian, Green Onyx, Yellow Chalcyde & Chalcedony.

*Disclaimer: This is not medical advice
View More Gemstones